Martha: FERENGIS ARE FUCKING ANNOYING. I HOPE THEY ARE NEVER IN ANOTHER EPISODE. But I know they will be. URGH!
Cindee: Did you watch the whole thing yet?
Martha: Yes!
Cindee: So, yes the Ferengi are in lots more episodes, but they change a lot
Martha: They best do. They literally jumped around doing jazz hands for the last five minutes
Cindee: They were supposed to be the "big" enemy for TNG, but that didn't work out cause they're silly. Really, the only consistent thing from this episode to the rest is that they like valuables and they're sexist and don't let women wear clothes. In the future, instead of being menacing, they basically just become Republicans
Martha: Oh god. Third/fourth episode now where someone is shocked there's a woman in the party.
Cindee: Like I said, aliens in Star Trek are sexist, and humans act like we are not. Kinda like how in the U.S. people complain about sexism elsewhere and act like it's not a thing here.
Martha: So, Worf's sash, what is this? No one else has one.
Cindee: It's him being Klingon-y. It has his family crest or whatever on it I think.
Martha: I see! Data continues to be delightful, I enjoyed the Chinese finger traps as bizarre as the inclusion was
Cindee: Really? I thought that was pretty stupid
Martha: It was stupid in that it made no sense in the context, they're paralysed by an unknown entity, their life support is going to fail but LOL Data's fingers are stuck. But in isolation I enjoyed it.
Cindee: Well in the grand tradition of our friendship, we are on opposite ends here. I dislike Data.
Martha: Well I'm only 4 episodes in  and currently he's a good foil to Picard who is too aggressive and serious currently.
Cindee: Touche. I just find some things about Data make no sense. Like him not knowing any idioms. I mean there are idiom books now, so there must be some in the future right? Unless they were all lost in WWIII?
Martha: I guess he needs a 'thing' if he's perfect AI then, other than being a walking plot device (aka encyclopaedia) what purpose does he have (except sex robot…)
Cindee: I get him not getting human behavior . . but idioms?
Martha: I feel the prime directive was thrown out of the window this episode, despite it being a constant theme of it with Riker using it to show the humans worthiness to the Guardian of the (something) empire.
Cindee: The prime directive is WILDLY inconsistently applied in general.
Martha: So, my issue here, as soon as they find out that they are not in fact outgunned by the Ferengi, they immediately manipulate them and lie to them. (Which makes Picard's little speech about trust pretty hypocritical). He forces them to break their cultural desire not to give visual communications.
Cindee. Hahaha. That's not a thing in future episodes.
Martha: I mean even if it is a lie, they don't know that. They claim to know nothing about the Ferengi
Cindee: Touche
Martha: They were happy for Yar to fight to the death to respect a culture last episode! I just found it a bit strange that they lie and manipulate, only back down on the lie when the Ferengi find out they are lying, and then say 'wooooah don't you trust us?!' And then have Riker bang on about the prime directive in the same episode.
Cindee: Well, supposedly the prime directive applies differently to warp-capable species and non-warp-capable species. I always wondered if the people in Code of Honor were warp capable. It's not clear.
Martha:  Is that to do with the 'don't expose them to tech' idea (from the movie don't shoot me…)
Cindee: One of those shitty new movies? Unlike SOME people I can handle new movies that I don't like being created in a favorite franchise without FREAKING OUT
Martha: Oh are you Star Wars shaming me?! ARE YOU?
Cindee: I sure am.
Martha: I found the insertion of 'earth history that's not a thing really' a bit confusing. Maybe I wasn't listening. We had 'Yankee traders' who were like, space pirates with a bit more honour. An Uncle Sam reference and then a random Picard soliloquy on the colours of the French flag…
Cindee: What? I don't remember ANY of that. So, what's not a thing? Uncle Sam is a thing and France does have a flag that has colors
Martha: Hahahah! Okay so they described the Ferengis as Yankee traders, which they explain as a sort of space merchant sailor who roamed around space in history looking for stuff to trade (but dodgy trade).  Riker calls them his forbearers. And then someone mentions red white and blue and Picard is all 'ahhhh, but in France we have it the right way, blue, white, red…'
Cindee: In his British accent?
Martha: Yes, all dreamily to himself. And then Data starts listing other red white and blue flags and RUINS THE MOMENT
Cindee: Fun fact: in Star Trek, all French people have British accents
Martha: Well that's bizarre.
Cindee: Maybe in the future, you all will conquer France
Martha: It's on my to do list
Cindee: Apparently though, you'll let them keep their flag
Martha: On the subject of accents, does the ship have 'sense oars' or does Picard just say sensors weirdly..
Cindee: So, that's not how you say it?
Martha: Well obviously…
Cindee: You're probably unaware of this, not being an expert like me, but some British people pronounce words differently than other British people
Marth: I agree, and whilst I am no expert, no British person says 'sensOARS' with so much emphasis on the second syllable. I've checked with them all.  Lastly, I think the only thing I really have to add was them 'going to have a conference evaluation. Which is basically 'let's have a chat in this cupboard'
Cindee: wait wut
Martha: and you call yourself a trekkie… Picard said 'lets have a conference evaluation' and all of the characters that had names went into this little side cupboard to discuss what to do!'
Cindee: I mean they have conferences all the time, but not in a cupboard
Martha: Okay it was a tiny room, off the bridge. And considering he took 90% of the people on the bridge it made no sense
Cindee: It wasn't this room?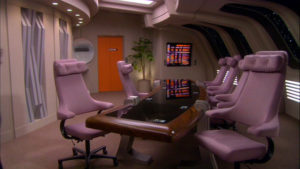 Martha: Yes. It just didn't seem necessary, unless they didn't want those pesky no name computer guys to hear
Cindee: Well that room is not a cupboard. It's plenty big.
Martha: But is it necessary.
Cindee: You don't like to sit down around a table to discuss things at work? You prefer to have all conversations haphazardly wherever you happen to be? I mean Yar doesn't even have a chair. All the other chairs on the bridge are facing the same direction.
Martha: Okay I see your point. But they didn't sit down, they just stood around in the not-a-cupboard.
Cindee: I see.
Martha: Troi was useless this episode.
Cindee: Well that's nothing new. Was Troi able to read their minds? In later episodes they claim Betazoids can't read Ferengis.
Martha: Well in this episode her sense were blocked entirely by something, either the Ferengis or the force field.  I don't want more Ferengis.
Cindee: Well, sucks to be you. Like I said, they do change. They become Republicans.
Martha: Less jazz hands, more paying off porn stars?
Cindee: They are republicans in the sense that they are obsessed with capitalism
Martha: Money and naked ladies – checks out