Martha: Cindee!! Wtf is this. Watch Picard's face as he goes through the door.
Cindee: ok so. I noticed that too and thought I was imagining it
Martha: Ahahaha! Is he just being daft and they left it in?
Cindee: That is the only explanation I have.
Martha: I must say though that was the highlight of the episode.
Cindee: Yeah so I don't know that there's much to say about this episode other than "what exactly was that?" and, ableism.
Martha: The story was predictable due to the crappy make up
Cindee: You could tell he wasn't an old dude from the start?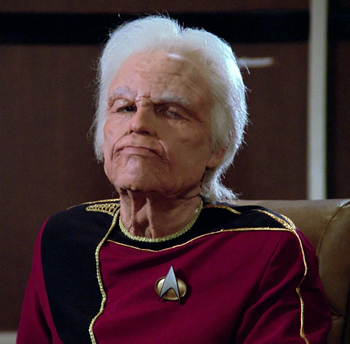 Martha: Like if he didn't get younger OR have flashbacks then what on Earth. I had my suspicions, like Riker, who is always suspicious.  I kept hoping his next 'attack' would end with him being a baby.
Cindee: Then have I got the Voyager episode for you!
Martha: DO YOU BELIEVE US NOW HOSTAGE MAN?And then when Picard is trying to prove his story to the bad guy he's all'Look at these medical photos we took!' And it's all fucking screen grabs of previous scenes!!
Cindee:  it was the 80s!
Martha: Where was Crusher and her camera?! Surely this isn't reliable medical evidence! And the handy scar, which he could have shown about 15 mins before he did.
Cindee: What would have been more reliable?
Martha: Like for medical progress photos they tend to keep people in the same room.The same pose.
Cindee:  you know this from your days a a medical practitioner?
Martha: IVE USED GOOGLE.
Cindee: You googled "medical progress photos"?
Martha: Everyone needs a hobby
Cindee:  Yours is googling medical progress photos?
Martha: Yes
Cindee: Alright then. They should have consulted you!
Martha: My only other thought on this episode is that I'm glad shit interpretations of the prime directive go back 45 years!
Cindee: Do I need an ableism rant, or is the ableism pretty obvious?
Martha: You're better at it than me. I'm assuming you mean the 'I can't possible negotiate this unless I'm young!' aspect?
Cindee: I mean the tropes, the tropes! Disabled man is bitter.
Disabled man is secretly bad. Disabled man wishes he wasn't disabled
blah blah blah
Martha: I know what you mean BUT pretty much every other character is like 'you are making terrible decisions' His wife is very clear that she loved him as he was and she wasn't bothered. I mean disabled man did make some shit decisions in the past and, I dunno I guess he wasn't 'bad' as such? He just wanted to make amends
Cindee: Yeah but that actually makes it worse! All the non-disabled people see that the cure is worse than the disability but the guy with it!
Martha: Yes he didn't want to be disabled anymore, BUT frankly I'm
disappointed that Crusher hasn't bothered to fix that disease yet.
Cindee: And yeah it would be ok if some characters with disabilities were evil but disabled characters in TV shows are all basically: bitter, evil, or magic
Martha: British people are always evil in things. Evil or Hugh Grant.
Cindee; True. Like all the death star dudes.